History of The Original Flat Back Oud

John Bilezikjian has had a professional musical career since 1958. Along about 1969 he met a wonderful musician, guitar builder who ultimately became one of his closet friends named Mikhael Kollander. As both of them became more acquainted with one another, they started working together musically. At first, it was private parties, Television shows and then night clubs which were popular at the time, as venues for their performances. They became quite good and were known as "Kollander and Bilezikjian".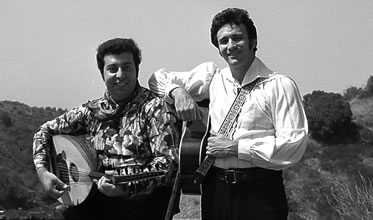 John Bilezikjian and Mikhael Kollander
They played music from all over the world as well as American music, (Country, Latin, Classical and Rock n' Roll) and between them they played Oud, Keyboards, Bass, Guitar, Violin, Mandolin as well as singing in 2 part harmony.
During this time, John sat down in a chair in order to play the Oud which was customary and still is today while Mikhael stood and performed. As they became more popular, it became evident to them that John needed to stand as well during their presentations. They decided that what was needed was an Oud that had a flat back in order to facilitate John standing as he did while playing and singing on the Bass, Violin and Mandolin with Mikhael.

Mikhael Kollander and John Bilezikjian designed and manufactured the first electric flat back oud in 1970.
The result is as you see here.

The Original Flatback Oud
John and Mikhael used this instrument and electrified it as well with a Barcus-Berry transducer. It now has a stereo nylon string transducer with 12 pick-ups inbedded in the bridge that allows a signal to come from each string to a junction box located outside of the instrument. This signal is then sent into an amplifier with a right and left side capabiltiy to control which side the performer would like each of the 11 strings on an Oud to be heard. It is the state of the art in electronics and the sound is incomparable.
They performed together for many years using this instrument in their musical revue around Los Angeles and Orange County night spots and private parties.

Mikhael also designed the first electric steel stringed Oud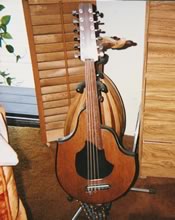 The first solid body electric stringed flatback oud.
They used this as well in their performance presentations.

John and Mikhael are the first people to have come up with this idea and to have manufactured it in a prototype which John Bilezikjian still uses to this day.

Many have tried to copy this design over the years however, they were the first to do so in 1970. This information about the first electric flat back oud is available to the public on this website for the first time and is linked to John Bilezikjian's web page, www.DantzRecords.com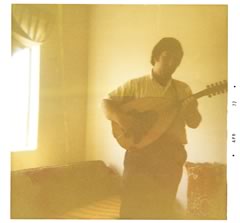 John standing in playing position with The Original Flatback Oud in 1971.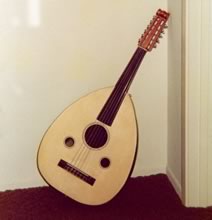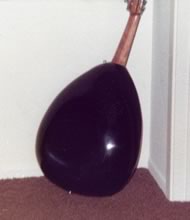 The first Fiberglass-back Flatback Oud